Cloud Varieties - Specific properties of the genera
Duplicatus (du)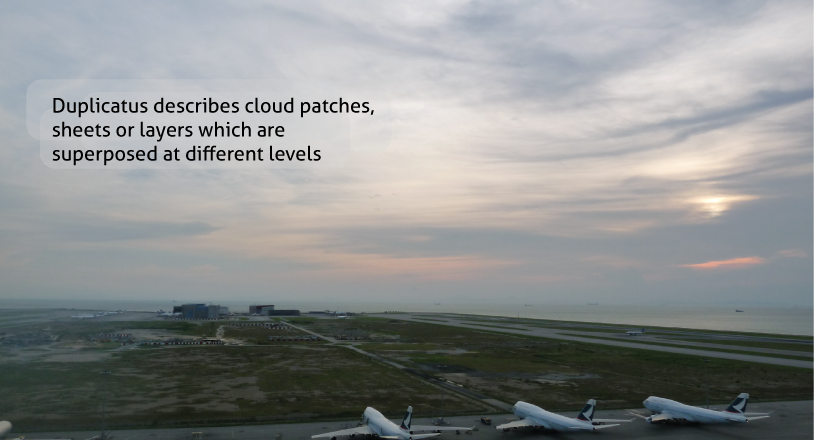 Intortus (in)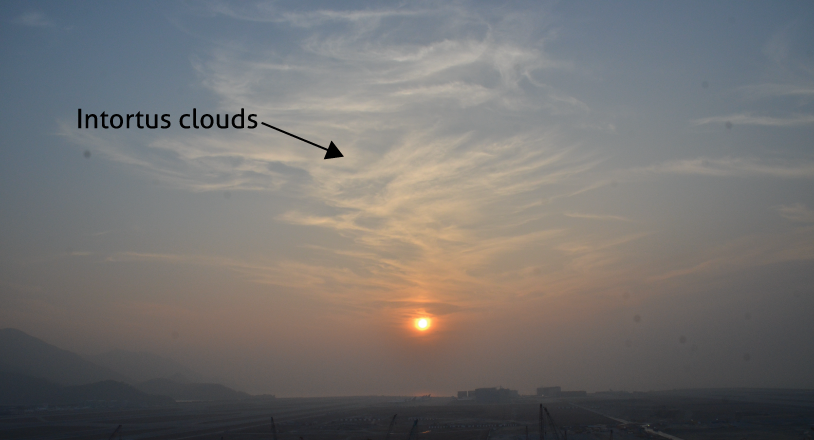 Intortus is a cloud in which the filaments are very irregularly curved and often seemingly entangled in a capricious manner. It mainly occurs with cirrus.
Lacunosus (la)
The cloud patches, sheets or layers of lacunosus exhibit more or less regularly distributed round holes or arranged in a manner resembling a net or honeycomb. Lacunosus mainly occurs with altocumulus or cirrocumulus, very rarely with stratocumulus.
Opacus (op)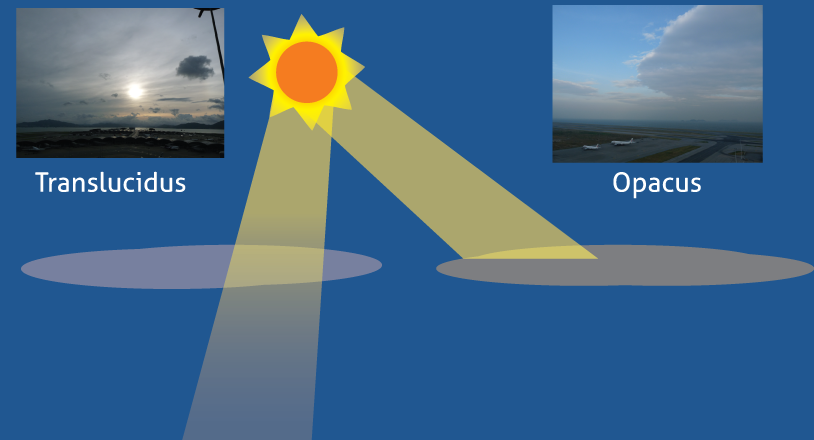 Perlucidus (pe)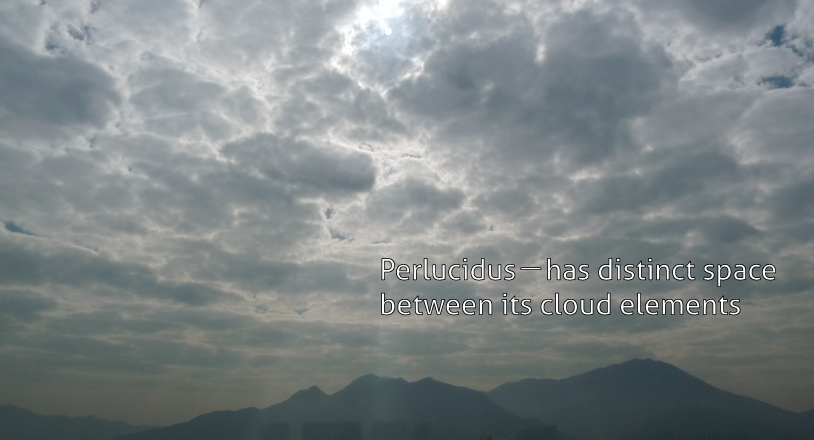 Perlucidus is an extensive cloud patch or layer, with distinct but sometimes very small spaces in between which allow the Sun, the Moon, the blue sky or overlying clouds to be seen. Perlucidus occurs with stratocumulus or altocumulus.
Radiatus (ra)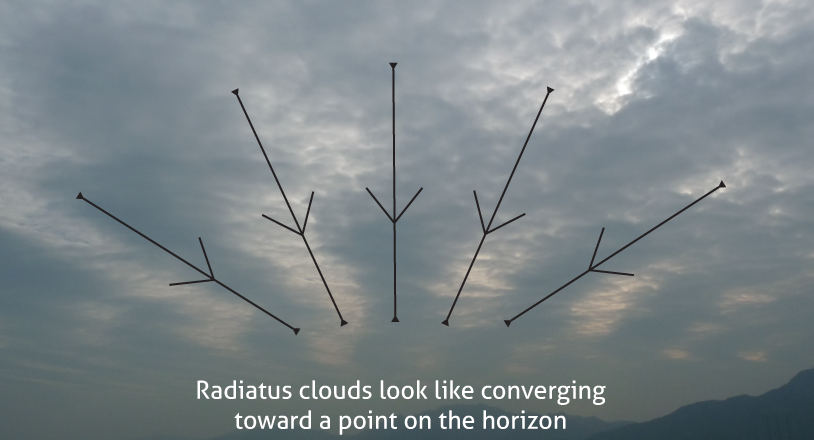 When a layer of cloud rolls extends in long lines that stretch off the horizon, the effect of perspective makes these lines converge toward a point. Such cloud variety is known as radiatus. Radiatus mainly occurs with cirrus, altocumulus, altostratus, stratocumulus or cumulus.
Translucidus (tr)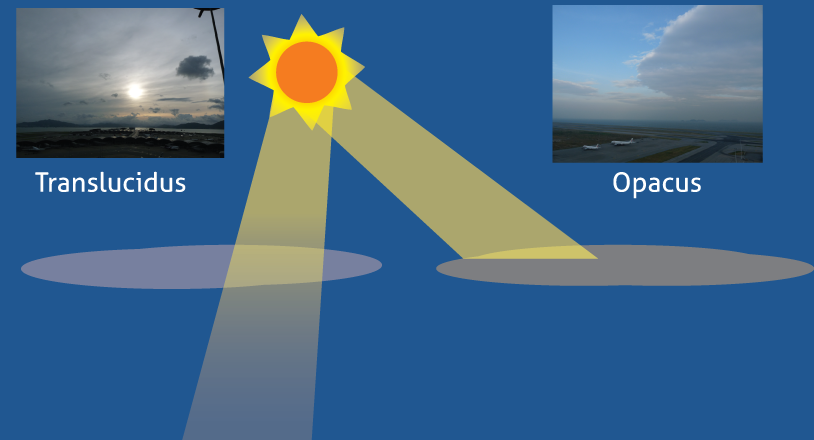 Translucidus is an extensive patch, sheet or layer of cloud, the greater parts of which is sufficiently translucent to reveal the position of the Sun or Moon. It occurs with stratus, stratocumulus, altostratus or altocumulus.
Undulatus (un)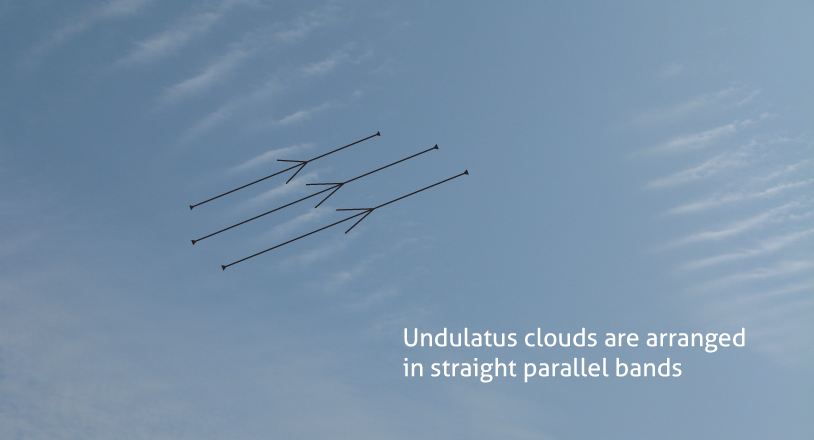 Undulatus variety is a cloud layer, or the arrangement of its cloudlets, shows an undulating appearance. It usually forms when the air above and below the cloud layer has different speed and/or directions. This wind shearing effect gives rise to cloud billows just like ripples in the sand or sea surface. Undulatus mainly occurs with cirrocumulus, cirrostratus, altocumulus, altostratus, stratocumulus or stratus.
Vertebratus (ve)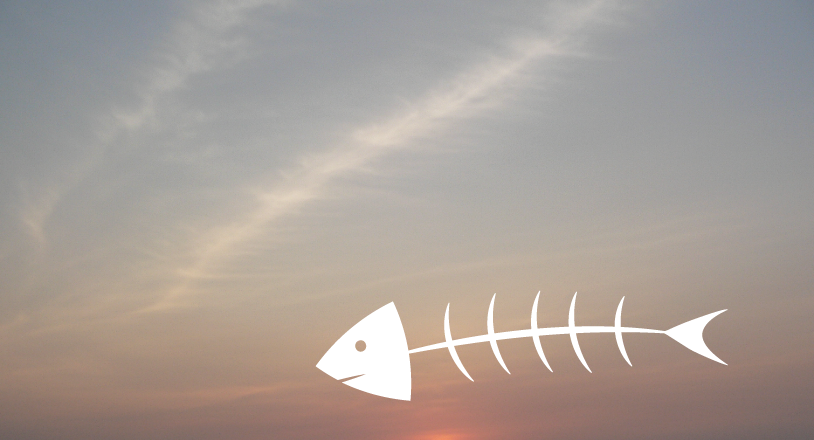 Vertebratus is a cloud whose filaments are arranged in a manner suggestive of vertebrae, ribs or a fish skeleton. It mainly occurs with cirrus.